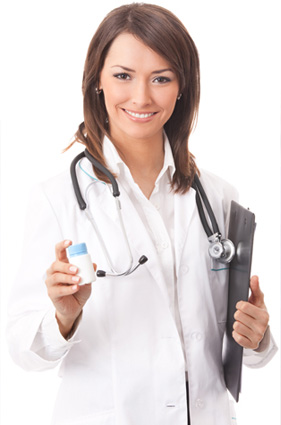 Medicare Advantage plans are not separate to original Medicare; they are actually a part of it. An enrollee's Medicare A and B plans are still active and they are still enrolled in them. The difference lies in the fact that enrollees are provided these services by a private insurer as well as extra services as per their requirements.
How is Medicare Advantage different to Medicare supplemental insurance?
Medicare Advantage policies differ from Medigap (supplemental insurance), as these are stand alone policies that are additional to original Medicare, whereas Advantage encompasses all under one plan. It is important that enrollees make this distinction before entering into either policy.

Medicare Advantage Plans: What are the Choices?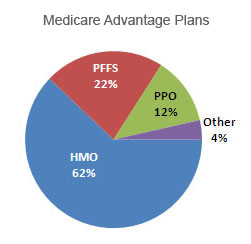 There are several Advantage plans available to Medicare customers. These include HMO, PPO, POS, SNP and PFFS. Let's look at them one at a time:
HMO or Health Maintenance Organization provides a network of health services (medical, hospital, dental, etc) which enrollees can use as required
PPO or Preferred Provider Organization allows you the freedom to use health services outside your network, albeit at a higher cost
POS or Point of Service is similar to the HMO plan, but also allows greater flexibility outside the designated network
SNP or Special Needs Plan is designed for those with special needs such as long term care patients who also are enrolled in Medicaid as an addition to their Medicare plan
PFFS (Private Fee for Service) plans are not associated with a network, but allow enrollees to use any service which accepts the terms of the policy
This year's Advantage plans provide coverage for Medicare Parts A and B for hospital and medical services respectively, but out of pocket costs vary between providers. These will mainly be in the form of co-payments (where you agree to pay part of the full amount as well as the insurance company) and deductibles
Having paid the deductible, you may be eligible for Part D prescription drug coverage, depending on which plan you choose.
Which Medicare Advantage Plan Should I Choose?
With so many plans to choose from, it's important that you get it right first time. Nobody can predict the future, but the whole nature of the insurance industry is based on balancing risks against finances and you must do just this.
Will you need vision and dental care? Are you likely to spend a considerable amount of money on prescription drugs? All these things must be considered before entering into a plan.
More about PPO Medicare Advantage Plans
PPO plans tend to be popular among elderly people, as they are afforded the ability to choose from a variety of healthcare providers and hospitals. There is also the option to include or opt out of prescription drug coverage, meaning enrollees can save money either way, depending on their requirements.
If you feel that you need flexibility with your Medicare advantage plan within a specified network, then a PPO plan should be a consideration.
More about HMO Medicare Advantage Plans
HMO plans are ideal for those of retirement age and beyond, as these people are usually settled within their community and less likely to travel. It is therefore easier for these people to adhere to a select network of healthcare providers than those of working age.
It is possible for an HMO enrollee to visit a doctor outside their network, albeit at greater cost. Prescription drug coverage is usually part of the plan and customers must choose a primary physician and get the appropriate referrals prior to enrollment.
This could be the ideal plan for anyone who lives in a large community, as cost-sharing keeps premiums low. On the other hand, those living in a relatively less populated area, with a smaller network of physicians may wish to opt for a PPO plan instead.
More about Medicare Advantage PFFS Plans:
The Medicare Private Fee for Service (PFFS) plan allows you greater flexibility from the Medicare program as enrollees aren't tied to a specific network, and can choose their own healthcare providers, as long as they agree to the scheme.
Not surprisingly, this extra freedom of choice can often mean that premiums are much higher for this type of plan.
What is the enrollment procedure for Medicare Advantage plans?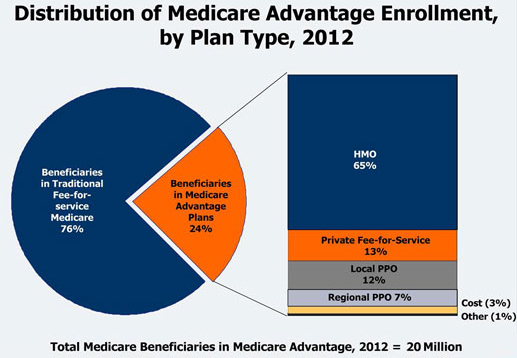 Enrollees must first qualify for original Medicare during the enrollment period, at the same time they apply for Medicare Parts A and B
Original Medicare subscribers cannot be refused a policy from any private insurance provider once this has been completed, with a few rare exceptions for those with certain pre-existing conditions. Ask a licensed insurance professional if you think you may fall into this category.
What is the Medicare 72 hour rule?
This rule administrated by hospitals and it states that the services given to patients of Medicare having left hospital within seventy two hours previously should be bundled under one bill, not separately.
This rule comes under Medicare's Prospective Payment Scheme (PPS). In this, Medicare pays rates for each admission in hospital. Classification of each patient is done through diagnosis related group (DRG) as per the information provided in the clinic. This clinical information consists of principal diagnosis, complications, surgical procedures, gender, age, and discharge of the patient.
It is the duty of the hospital to have properly diagnosed, as this information determines which DRG is to be assigned to the patient. The diagnosis should not be incorrectly coded as these prices are evaluated by DRG.
What are the benefits of the 72 hour rule?
The hospital pays for each DRG, irrespective of which services are provided. These services are provided within 3 days prior to hospital admission, even if they are not related to admission. If the services are related to admission, they will be covered. There are many non-diagnostic services such as physical and speech therapy and these are not covered.
Different hospitals and the 72 hour rule
Certain care hospitals need 72-hour rule while other facilities need 24-hour rules such as long term care hospitals and psychiatric hospitals. The administrator of the hospital should bear in mind that these bills are paid properly and hospital should keep good records.
Records must be kept so that Medicare can classify patients into DRG. Improper coding of the billing can cause unnecessary problems. Every medical bill should have diagnosis, complications, procedures performed, age of patient, gender, and discharge disposition.
Supplement Advantage plans and Medicare
Policies can vary according to the plan for inpatients' and outpatients' stay if you have a Medicare advantage or a Medicare Supplement plan. Companies should have a complete knowledge of the Medicare guidelines as far as hospitals and Medicare is concerned.
Once the patient has reached home, they can receive more than one explanation of benefits. It depends upon the coverage from the Medicare Advantage and the other supplements. The balance could be out of pocket, depending on the circumstances.