Medicare Supplement Insurance Policy
The additional health care costs not covered by Medicare became a major concern for the family, Mr. Kenneth Powell started seriously looking for a Medicare Supplement Insurance policy to cover such expenses. After a thorough search and a lot of discussion with family and friends, Mr. Powell decided to enroll in a Medigap Supplement Insurance Policy.
A Medigap supplement insurance policy covers those expenses that are not covered by the original Medicare plan. A Medicare Supplement Insurance policy is also known as the Medigap insurance plan. For example the original Medicare plan will cover your cost of health care at hospital for 60 days but not beyond that period. A Medigap insurance policy will cover hospital care costs from 61 to 150 days.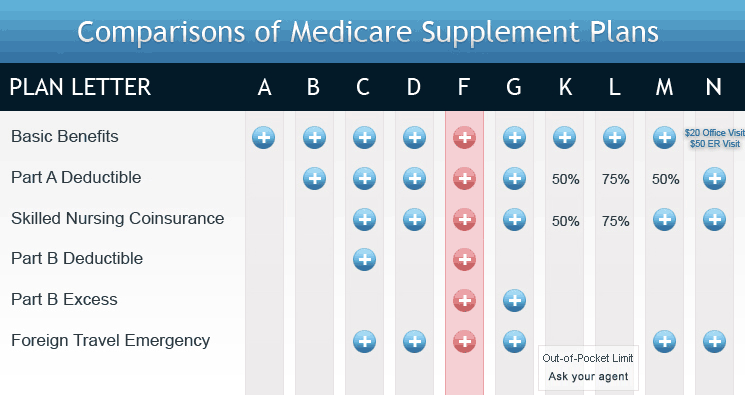 Read Complete Guide to Medicare Insurance
A Medicare Supplement Insurance Policy is sold by private insurance companies. The Medicare insurance companies sell to the Medicare recipient any one of the twelve standard plans.
The dilemma for Mr. Powel started right at this point. Multiple offers and options that were available were confusing him and he found it real difficult to choose the right Medigap supplement insurance policy.
Every Medigap supplement policy from A through L offers different benefits, fills different gaps in Medicare and varies in price. Some plans cover the deductibles and coinsurance while other plans cover home health care. A Medicare supplement policy also differs from State to State. So it is better to check the local availability of a particular Medicare supplement plan.
If you need any information or assistance you can call the official help line at 800-633-4227 as you get connected you will hear a recorded message before any person comes up on the line. One can also go through the offcial website of Medigap, but then if it had been that easy to understand the complexity of insurance policies than every person must have enrolled on their own. The enormity of the policies and their complexity makes you feel that you are getting nowhere.
But do not feel disheartened we are here to ease out the things for you. We are in this business since many years and have brought smiles to many people. We provide our clients with information that is latest that helps you in making the most sensible decision.
Related Articles: