Medicare supplemental insurance is also dubbed as Medigap policy as it fills in the 'gaps' left by basic Medicare plans. Medigap is private health insurance and takes care of some of the health expenses that are not covered by your original Medicare insurance.
All Medigap policies have to adhere to the Federal and State laws that are made to promote the welfare of the masses. Standardized Medigap policies from letter A to N must offer the same benefits, regardless of the company offering them.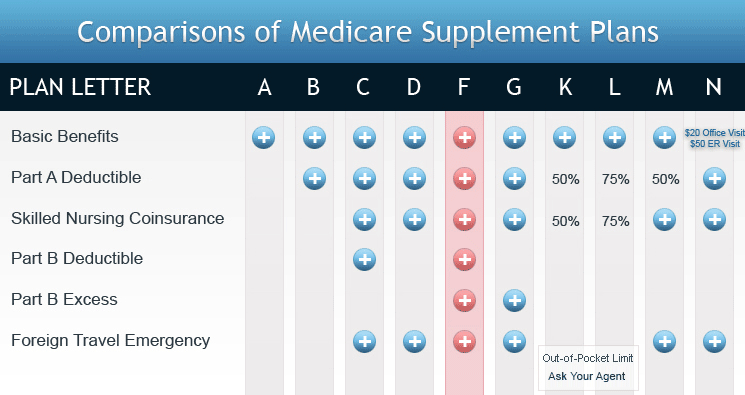 Read Complete Guide to Medigap Insurance
Medicare Plans

Medicare Part A stands for hospital insurance. It includes inpatient hospital stays, hospice, nursing facility, and home health care. Medicare Part B covers outpatient services, preventative services, and doctor visits.
Medicare Part C, called Medicare Advantage Plan, comprises Part A, Part B, and at times Medicare Part D (prescription drugs). With Medicare Part D, prescription drugs come at discounted rates.
Having both Medicare and Medicare supplement insurance allows you lot of benefits. Health expenses are divided amongst both of them. Medicare supplemental plan pays its pre-determined share for health expenses, whilst Medigap policy will shell out its share afterwards.
Eligibility for Medigap Insurance  
You can buy a Medigap policy, if you already have Medicare Part A or Part B. If you are 65 and above, you qualify for Medicare insurance. The best time to obtain Medicare is during open enrollment period. This can be three months prior to your 65th birthday or three months after your 65th birthday.
You will not be spurned Medicare insurance during this period even if you are suffering from a pre-existing condition. Therefore, it is wise to opt for Medicare insurance when the enrollment period is on.
As long as you are shelling out your premiums on a monthly basis, the insurance company cannot cancel your Medigap policy.
Shopping for a Medigap Policy
Before you choose supplemental Medicare insurance, it is important that you analyze your health needs first. Once you know why you need a Medigap policy, it will be easier to decide the right kind of supplemental insurance.  
There is a plethora of
Supplemental Medicare insurance
plans in the market. You just need to look out for the
insurance companies
that offer Medigap policies in your county. If you how much you can afford to pay as monthly premiums and what benefits you require, it will become easier for you to select a Medigap policy.
Medigap rate comparison guide from your State Health Insurance Assistance Program can help you compare rates from different insurance companies that deal in supplemental insurance. This way you can get the best insurance deal for Medicare.
A Medigap policy is a great way to enjoy your life after retirement. It takes care of most of your medical expenses such as doctor and hospital bills, custodial care expenses, and emergency healthcare treatment abroad.
bs 478 45 071111