Humana embarked on its journey in 1961, then known by the name of 'EXTENDICARE' – a nursing home company. Dismantled in 1972, it invested in purchasing new hospitals, becoming one of the largest hospital companies in the U.S.
Extendicare got its new corporate identity Humana Inc. in 1974. Facing exceptional growth, Humana took over control of American Medicorp Inc in 1978, doubling the size of the company. Accelerating the construction process, the company could complete and open a new hospital in just one month.
Humana has various feathers added to its cap such as developing a double corridor concept, which placed the support system of nurses nearer to the patient's room, reducing the distance between the nurses and the patients.
Humana diversified to the field of insurance in 1980, developing its own insurance products and marketing them. Humana has merged with many big names to provide better services and more benefits apart from just giving them medical insurance. For instance, it partnered with the Virgin group to provide regular exercise, with BHCGSW (Business Health Care Group of Southeast Wisconsin) to reduce its health care cost.
Humana is endorsed by David Toms (PGA Tour player) and Nancy Scranton (LPGA Tour player), as it is the official provider of health services to the PGA Tour and Champions Tour.
Product Diversification:
Humana has been in the insurance field now for almost five decades and is listed in the Fortune 100 companies list. It offers a wide range of insurance products/plans under its name such as providing dental and vision insurance, plans specifically for those in military etc out of which Humana Part D of Medicare is one of most sought after plan.
Choosing Humana Medicare Plan: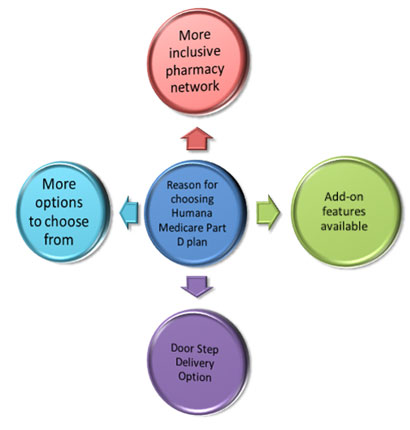 Having hundreds of options available for Part D of Medicare, it is very difficult to decide upon one. All of them are created distant from each other as far as features are concerned but Humana Medicare plan being a brand, it always sticks out.
Below are a few factors discussing why one should opt for a Humana Medicare Part D plan.
Humana Medicare Plan offers:
One can easily hand pick any one plan from three different plans available
One can easily find a local pharmacy provided it supports this drug plan or is authorized to do so
It is a stable company and a brand name
The premiums to be paid are quite low, as compared to others
One can have an access to MyHumana, to keep a check on medical expenses that are charged to individuals or the family and plan accordingly
One can also view profiles of their respective physician, compare the cost of treatments and drugs, compare hospitals etc
It has wide network of almost 60,000 pharmacies in U.S
The drugs are delivered at your doorstep if you are a Humana member as it has its own mail order facility
The plans can be modified according to the need, lifestyle, budget and requirements of an individual
They have an customer handling team, which guide an individual time to time when choosing a plan
Humana assist an individual right from the assessing of the requirement to the actual availing of the Humana Medicare Part D Plan and then providing customer satisfaction to all the customers.
Humana and its different Part D Plans:
Humana - Walmart Rx Part D Plan
Humana Enhanced Part D Plan
Humana Complete Part D Plan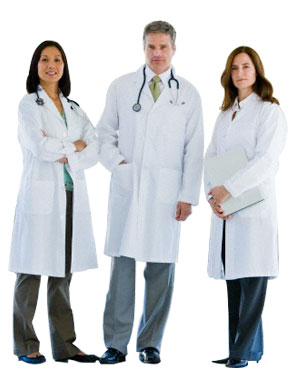 Humana Medicare Plan: Walmart Rx
A cheap low copay prescription plan
A plan designed with more than 1,500 generic drugs
Cost saving plan
More on savings, when using mail order
Humana Medicare Plan: Enhanced
Best when one needs a basic coverage and not extensive coverage
It has no deductible and low premium
Humana Medicare Plan: Complete
Ideal for those who need to have medication on a regular basis
It comes with no deductibles and fixed copayment helps save money
It provides protection till catastrophic limits
Wide coverage of the branded drugs along with some specified generic drugs
One should prefer using the Rx calculator tool to analyze the need for medications and use zip codes to compare the prices of drugs, as some of the plans offered are region specific
Everyone would have their share of experiences, some good some bad with Humana Medicare plan, but having a plan that's trustworthy is always beneficial. The Humana plan is easy to understand and it covers most drugs that are generally prescribed to the senior section of society.