After gaining complete knowledge about Medicare Parts A, B and C, you still might be wondering what is Medicare Part D prescription drug coverage? Keep reading as you will find complete answers to all your questions related to Medicare Part D.
What is Medicare Part D Prescription Drug Coverage?
Medicare Part D plans provide insurance coverage for prescription drugs. These plans are provided by private Medicare Companies which are approved by Medicare. Medicare Part D has become a necessity now-a-days particularly for the senior citizens.

Medicare Part D Plans are meant to help people having Medicare plans to lower down their prescription drug costs. A Medicare Part D plan will also allow you to obtain greater access to important medical drugs.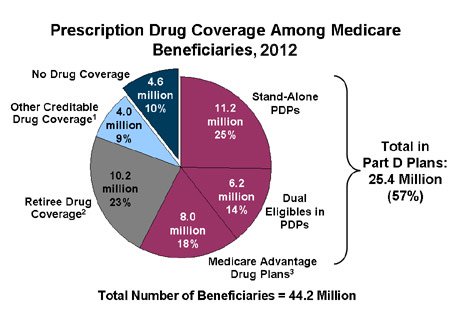 How can you Receive Medicare Part D Coverage?
There are two ways in which a person can enroll Medicare Part D Plan. The first is by adding it to your Original Medicare Plan or Medicare PFFs Plans, or MSA Plans. The second method is by joining a Medicare HMO Plan or PPO Plan that comprise of Part D coverage. One usually requires paying a definite monthly insurance premium which varies as per the plan you opt for.

Adding Medicare Part D to Original Medicare Policy:
In case you have enrolled in the Original Medicare policy, you may get an additional coverage for Part D. Usually, you have to pay a separate monthly premium or yearly deductible.

Adding Medicare Part D to the Medicare Advantage Plan:
If you have enrolled in a Medicare Advantage Plan, there are lot many chances that you get covered for Medicare Part D along with it. Buy, there a few Advantage Plans which do not include the benefits of Part D. For those plans, you need to buy standalone Part D policy.

How does Medicare Part D Work?
After you enroll in Medicare Part D plans, you would get a membership card through mail. You will then have to pay co-payments, deductibles or co-insurance as you make use of your card.

Some of the Medicare Part D Plans have a coverage gap. Coverage gap entails all the costs that you have to pay separately for your prescription medications while you are in the gap and until you reach the out-of-pocket limit.

More Information about Part D Medicare Costs:
In case you cannot afford to pay for Medicare Part D, you may need some extra help. Various programs are there to help you cover extra costs like Medicare Supplement Insurance if you fulfill the income prerequisites.

In case you have already enrolled in some insurance plan via previous or present employer, then you should get in touch with your benefits expert before you modify or switch your Part D coverage plan.

Buying a Part D Prescription Drug Plan is a good option for those who want to take out worry from their lives. You never know what may happen to you the very next day. Can you afford to risk your health? Buying prescription medications can cost hundreds of dollars every month, which makes it important for you to go for Part D Plans.

Find a plan that suits your needs and budget. In case you cannot make up your mind, we would help you invariably to pick out the best Medicare Part D plan for you.
States

Medicare Part D Eligible


Prescription Drug Programs

Medicare Advantage Drug Plans (MA-PDs)

Employer Plans Taking Retiree Drug Subsidies

Other Prescription Coverage

Known Credible
Drug Coverage

United States

42,158,217

17,32,278 1

8,010,244 2

6,460,230

3,441,207 3

34,315,459

Alabama

698,120

339,712

116,564

426,276

138,376

491,427

Alaska

77,527

622,914

254

34,441

9,345

57,529

Arizona

853,234

231,325

290,550

403,930

139,349

428,124

Arkanas

339,561

455,592

43,026

40,223

38,421

326,452

California

4,402,431

3,545,786

1,420,472

327,435

431,497

2,834,840

Colorado

564,263

665,471

161,290

35,569

33,333

284,753

Connecticut

340,170

125,853

63,980

411,288

58,346

259,427

Delaware

137,141

54,572

2,717

33,401

36,939

417,449

District of Columbia

73,239

87,558

5,927

5,252

24,306

29,243

Florida

3,451,715

2,152,557

796,646

650,681

432,231

1,312,495

Georgia

1,323,463

254,557

102,623

654,930

666,475

549,479

Hawaii

150,515

59,693

60,579

3,239

21,439

362,220

Idaho

248,233

85,015

31,700

23,242

32,429

472,302

Illinois

5,742,748

753,431

110,729

436,311

375,214

4,76,485

Indiana

357,748

524,389

49,484

594,261

135,244

694,398

Iowa

541,548

241,116

37,513

30,148

53,240

531,347

Kansas

413,583

250,458

27,639

32,366

54,387

444,239

Kentucky

735,037

443,395

52,482

227,460

82,469

305,946

Louisinana

642,314

377,423

109,435

37,447

32,391

541,638

Maine

248,348

323,439

6,972

23,577

44,205

399,330

Maryland

740,525

230,146

43,944

342,401

346,740

403,211

Massachusetts

1,343,421

322,538

168,292

385,572

203,568

348,430

Michigan

3,341,540

535,849

252,875

341,454

212,430

2,33,528

Minnesota

735,512

229,312

188,510

36,156

83,351

345,415

Mississippi

451,310

233,233

18,408

39,490

31,245

402,596

Missouri

932,410

234,534

150,867

318,445

262,245

415,341

Montana

147,265

34,453

14,013

34,205

23,488

330,339

Nebraska

268,451

251,594

20,601

34,412

39,945

236,356

Nevada

341,668

84,341

95,315

50,347

22,537

240,340

New Hampshire

245,348

34,379

4,279

25,645

34,752

255,395

New Jersey

4,466,402

532,334

105,541

380,258

451,349

2,049,548

New Maxico

487,595

135,472

60,113

33,237

34,854

344,366

New York

2,360,351

938,133

620,818

344,471

249,742

2,103,234

North Carolina

2,348,139

345,316

161,955

312,436

136,344

1,126,341

North Dakota

305,235

39,340

4,142

3,207

52,439

24,468

Ohio

3,832,439

539,549

300,878

408,543

137,722

1,23,122

Oklahoma

538,348

271,304

59,212

53,453

43,456

275,125

Oregon

551,335

345,649

173,284

36,309

75,343

180,325

Pennsylvania

4,395,478

741,844

618,352

310,440

242,721

1,823,667

Rhode Island

375,377

23,341

57,165

12,332

43,317

151,225

South Carolina

402,384

439,423

64,168

318,445

338,945

621,232

South Dakota

329,469

34,343

9,904

4,535

23,231

125,423

Tennessee

930,539

244,523

364,542

312,738

124,293

547,457

Texas

2,734,337

2,146,340

326,680

413,741

349,422

2,536,423

Utah

356,511

26,422

34,242

31,245

46,142

414,600

Vermont

502,452

45,121

274

38,451

63,308

87,586

Virginia

2,455,319

463,421

28,413

319,499

262,543

843,566

Washington

581,453

239,631

214,449

417,297

153,333

405,550

West Virginia

668,491

125,548

24,041

45,326

43,531

519,676

Wisconsin

360,945

325,740

214,450

435,283

92,877

658,860

Wyoming

44,659

32,040

2,274

4,756

15,600

61,796

Residence Unknown

567,348

31,425

335,461

35,511

59,159

691,306