A Medicare Advantage Plan is a brilliant alternative to your Original Medicare plan. Instead of being administered by the government, these plans are provided by various private Medicare Companies.
Various Types of Medicare Advantage Plans:
Various kinds of Medicare Advantage Plans have been explained below and it must be kept in mind that most of these plans provide Medicare Part D prescription drug coverage.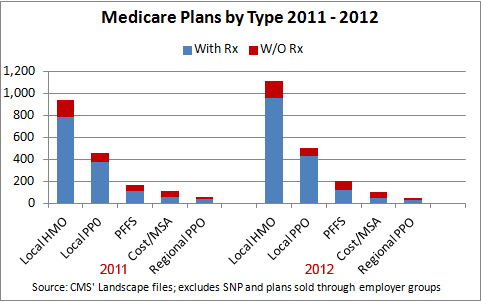 Health Maintenance Organization Plans (HMO):
A Medicare HMO Plan provides you access to a network of physicians and hospitals that provide health services to you in case of emergency. They lay a major stress on prevention. This enables you to receive more Medicare benefits as compared to the Original Medicare Health Plan and Medicare Supplement Insurance Plans.
A Medicare HMO Plan has got the most restrictive network out of all the Medicare Advantage Plans as it does not provide Medicare coverage in case if go out of network without prior approval.
HMO with Point of Service Option:
This is a kind of Medicare HMO plan that offers a flexible network to the people enabling them to obtain Medicare Health Insurance services outside of the network under certain conditions. You may have to pay some extra money for visiting doctors or hospitals out of your network.

Preferred Provider Organization Plan (PPO):
A PPO Plan includes a network of physicians and hospitals that provide you Medicare Health Care. Similar to the Medicare HMO Plan, a PPO provides large numbers of Medicare Benefits to the people when compared to Original Medicare and Medicare Supplement Insurance plans.

Medicare PPO Plans have their own network of physicians and hospitals, but also give you an option to pick out any doctor or hospital outside the network by paying a higher co-payment or co-insurance.

Private Fee-For-Service (PFFS):
A PFFS Plan is a kind of Medicare Advantage Plan which allows people to visit Medicare-approved any physician or hospital they want to. The only condition here is that the doctor or hospital should accept Medicare as well as the terms and conditions of the plan.
Under this plan, one usually receives extra benefits that the Original Medicare does not provide. It must be noted that The PFFS Plan is the most flexible Medicare Health Insurance Plans, but it is completely in the hands of the doctor or hospital to accept a plan member or not.

Medicare Special Needs Plans (SNPs):
These are special Medicare Advantage Plans that provide Medicare coverage for Medicare recipients with particular chronic conditions such as Cancer and Diabetes etc. Generally people with particular medical conditions are permitted to enroll under a SNP.

Medicare Medical Savings Account (MSAs):
Medical Savings Account combines both high-deductible Health Insurance plan and your medical savings account in which you can deposit a particular sum of money annually. You would be able to make use of this money to cover the expenses related to Medicare Parts A and B. As and when your deductible is met, the Medicare plan continues to pay further for Medicare services.

Does each Medicare Advantage Plan provide you the Same Coverage?
This is not true. Each Medicare Advantage Plan extends different kind of Medicare benefits. Even though all of the Medicare Advantage Plans at least cover the basic Medical services, they may charge different deductibles, present you with co-insurance or several co-payment terms like 30 % of the procedural cost.


Some of the Medicare Advantage Plans have a limit on precisely how much a person can spend annually and a few Medicare Advantage Plans do not out any kind of limit on spending. These Medicare Advantage Plans likewise render extra benefits such as dental treatments, eye check up, and membership in health clubs  etc.

To conclude, Make sure that you understand the Medicare coverage prior to enrolling yourself in any plan. If you are unsure, kindly ask questions to BestMedicare Supplement Insurance Company.
Medicare Advantage Plan
Monthly Payments (Average)

Number Of MA Contracts

Advantage Plan Penetration

United States
$734
United States
428
United States
17.5%
Alabama
$692
Alabama
41
Alabama
15.2%
Alaska
NA
Alaska
39
Alaska
0.5%
Arizona
$651
Arizona
50
Arizona
30.1%
Arkansas
$640
Arkansas
39
Arkansas
8.23%
California
$652
California
52
California
30.7%
Colorado
$649
Colorado
37
Colorado
28.2%
Connecticut
$681
Connecticut
40
Connecticut
9.1%
Delaware
$658
Delaware
37
Delaware
2.23%
District of columbia
$776
District of columbia
41
District of columbia
8.12%
Florida
$840
Florida
74
Florida
23.1%
Georgia
$680
Georgia
49
Georgia
8.1%
Hawaii
$639
Hawaii
41
Hawaii
34.4%
Idaho
$647
Idaho
40
Idaho
18.2%
Illinois
$680
Illinois
56
Illinois
7.22%
Indiana
$641
Indiana
45
Indiana
9.5%
Iowa
$618
Iowa
42
Iowa
11.8%
Kansas
$675
Kansas
44
Kansas
6.2%
Kentucky
$653
Kentucky
45
Kentucky
8.4%
Louisiana
$855
Louisiana
42
Louisiana
16.1%
Maine
NA
Maine
38
Maine
2.23%
Maryland
$815
Maryland
41
Maryland
5.5%
Massachusetts
$737
Massachusetts
42
Massachusetts
14.2%
Michigan
$816
Michigan
44
Michigan
14.1%
Minnesota
$645
Minnesota
40
Minnesota
26.2%
Mississippi
NA
Mississippi
38
Mississippi
6.51%
Missouri
$663
Missouri
45
Missouri
15.2%
Montana
$591
Montana
38
Montana
11.2%
Nebraska
$650
Nebraska
37
Nebraska
8.21%
Nevada
$757
Nevada
41
Nevada
29.1%
New Hampshire
$653
New Hampshire
33
New Hampshire
2.1%
New Jersey
$807
New Jersey
42
New Jersey
8.2%
New Mexico
$651
New Mexico
41
New Mexico
20.1%
New York
$811
New York
64
New York
21.2%
North Carolina
$647
North Carolina
40
North Carolina
13.3%
North Dakota
$591
North Dakota
37
North Dakota
5.51%
Ohio
$674
Ohio
54
Ohio
17.1%
Oklahoma
$666
Oklahoma
42
Oklahoma
11.3%
Oregon
$647
Oregon
53
Oregon
34.3%
Pennsylvania
$778
Pennsylvania
59
Pennsylvania
31.1%
Rhode Island
$655
Rhode Island
37
Rhode Island
30.2%
South Carolina
$646
South Carolina
43
South Carolina
8.22%
South Dakota
$591
South Dakota
36
South Dakota
3.2%
Tennessee
$655
Tennessee
47
Tennessee
16.1%
Texas
$742
Texas
57
Texas
13.0%
Utah
$644
Utah
40
Utah
16.5%
Vermont
NA
Vermont
34
Vermont
1.1%
Virginia
$671
Virginia
43
Virginia
8.7%
Washington
$644
Washington
47
Washington
19.1%
West Virginia
$707
West Virginia
40
West Virginia
6.23%
Wisconsin
$618
Wisconsin
46
Wisconsin
18.2%
Wyoming
NA
Wyoming
35
Wyoming
2.3%

av 620 80 01312012