FREQUENTLY ASKED QUESTIONS (FAQ)
What is Medicare?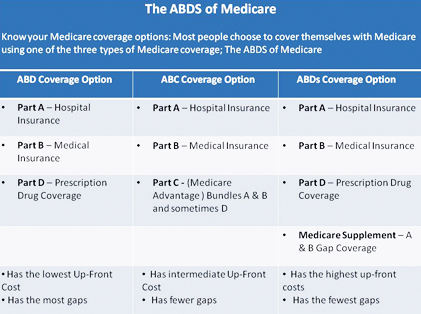 Medicare is a federal health insurance program for people 65 years of age or older and certain people with a disability or end-stage renal disease (permanent kidney failure). It pays for much of your health care, but not all of it. There are some costs that you will have to pay yourself. These are called your out of pocket costs.
What are Part A and Part B of Medicare?
Part A (Hospital Insurance) helps pay for inpatient hospital care, some skilled nursing facility care, hospice care, and some home health care. Part B (Medical Insurance) helps pay for doctors' services, outpatient hospital care, and some other medical services that Part A doesn't cover. Part B helps pay for such covered services and supplies when they are medically necessary.
What is a Medicare Supplement plan?
A Medicare Supplement Insurance plan is a health insurance policy sold by private insurance companies. They must follow federal and state laws. These laws protect you. The front of the Medicare Supplement Insurance plan must clearly identify it as "Medicare Supplement Insurance." Costs that you must pay, like coinsurance, co-payments, and deductibles, are called "gaps" in original Medicare plan coverage.

You might want to consider buying a Medicare Supplement plan to cover these gaps in Original Medicare coverage. Some Medicare supplemental plans also cover benefits that the Original Medicare Plan doesn't cover, like emergency health care while traveling outside the United States. A Medicare Supplement Insurance plan may help you save on out of pocket costs. If you buy a Medicare Supplemental Insurance plan, you will pay a monthly premium to the private insurance company that sells you the policy.
What is Medicare drug coverage (Part D)?
Starting January 1, 2006, new Part D Medicare drug coverage was available to everyone with Medicare. Everyone with Medicare can get this coverage that may help lower drug costs and help protect against higher costs in the future. Medicare drug coverage is insurance. A private insurance company will provide the coverage.

You choose the drug plan and pay a monthly premium. Like other health insurance, if you decide not to enroll in a drug plan when you are first eligible, you may pay a penalty if you choose to join later.

If you don't join a Part D plan by May 15, 2012, and you don't currently have a drug plan that, on average, covers at least as much as a standard Medicare drug plan, you will have to wait until November 15, 2012 to join.

When you do join, your premium cost will go up at least 1% per month for every month that you wait to join. Like other health insurance, you will have to pay this penalty as long as you have Medicare drug coverage. If you join by December 31, 2012, your coverage will begin January 1, 2012.
What are "open enrollment" and "guaranteed issue" in Medicare?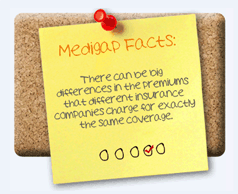 Open enrollment allows the applicant to be guaranteed a Medicare Supplement Insurance plan regardless of their current or past health history. Otherwise, the applicant must meet medical underwriting standards to qualify if required by the insurance company. Open enrollment includes a six-month period from the date you enrolled in Medicare Part B if age 65 or older, or a six-month period when you turn 65 if you were eligible for Part B benefits before age 65.

Also, if you are enrolled in a Medicare Advantage plan and you are involuntarily terminated by the plan due to the Medicare Advantage insurer ceasing to offer the insurance plan, or you're moving out of the insurance plan's service area or the plan becomes insolvent, within two months of the insurance plan's termination date you have a "guaranteed issue" right to buy Medicare Supplemental Insurance plans A, B, C or F without having to medically qualify.

Finally, if you enrolled in Medicare Part B at age 65 but remained covered under group insurance beyond the six month open enrollment period, upon termination of the group health coverage in many states, including Florida Medicare, residents are eligible for two months.
What is creditable coverage?
Creditable coverage is any previous health insurance coverage that can be used to shorten the pre existing waiting period, such as a health insurance coverage under a group (employer) health plan or an individual health insurance policy. However, if there was any time that you had no health insurance coverage of any kind, and during that time you were without health insurance coverage for more than 63 days in a row, you can only count the creditable coverage you had after the break in health insurance coverage.
What is a Medicare approved amount?
This is the fee that Medicare sets as reasonable, which providers who accept "Medicare assignment" will charge for a covered medical service. Otherwise, the Medicare approved amount may be less than the actual amount charged by a doctor or supplier for a service or supply.
Do I have to wait to switch to a different Medicare supplement policy?
No, but the length of time you've had your Medicare supplemental plan will affect how your new Medicare Supplement policy covers you for pre existing conditions. If you've had a Medicare Supplement Insurance plan for at least six months and you decide to switch, your new Medicare Supplemental Insurance plan must cover you for all pre existing conditions. If you've had a Medicare Supplemental Insurance plan for less than six months, the new Medicare supplement policy must give you credit for the time the older policy covered you.
What happens to my Medicare supplement plan if I move?
Because your Medicare Supplemental Insurance plan is guaranteed renewable, you will still have insurance coverage if you move. If you move to a new state, however, the Medicare supplement insurer may quote you a different premium. If you have a Medicare Select insurance plan, which contain network restrictions, you must change your Medicare Insurance coverage. But you have the right to buy Medicare Supplemental Insurance plans A, B, C or F in the state you move to without having to medically qualify.
What is the Donut Hole?
A term used in Medicare when the medication cost sharing is exhausted after the initial coverage in a Medicare Part D plan and before the cost touches the threshold to qualify for the "catastrophic" program. Due to the absence of cost sharing the Part D enrollee will pay the full price of the prescription drug. The donut hole is also referred to as the "coverage gap".
What are Federal Employee Health Benefits?
Health insurance benefits provided to Federal employees. People who are eligible for the Medicare Part D plan also qualify for "creditable coverage" under FEHB. Both Medicare Part D coverage and FEHB are similar to each other and people who are switching from one to the other do not have any increased benefits.
What is catastrophic coverage?
These are programs run by the government to protect insured people from huge out-of-pocket expenses for prescription drugs under Part C and Part D. Every year the government sets fresh limits for a minimum amount of out-of-pocket expenses in order to be eligible for catastrophic coverage. This is only applicable to on-formulary medication expenditure incurred in that calendar year.
What is the Federal Poverty Level?
The federal government has set up an income level to distinguish people who are impoverished and can qualify for different types of assistance.
Why switch to a different supplement policy?
Some reasons why a person may look for new insurance policy: Paying for benefits that are no longer required; want more benefits than are currently available; want to change the company even though the present policy provides all the needed information; want a less expensive policy with similar benefits to those that they currently have.
Is it allowed for a person to enroll in a Medicare prescription plan and supplemental policy with drug coverage together?
No. People, who are enrolled in a supplemental plan along with drug coverage and also have Medicare Part D, should inform their insurance company so that they can remove your name from the drug coverage and adjust the premium accordingly. It is not possible to get drug coverage back once it is being removed even though the person is enrolled in the same supplement policy.
Can the supplement insurance company drop the coverage?
Policies that are bought after 1992 are guaranteed renewable so the insurance company can't drop you. But the policies that are bought before 1992 may not have the option of guaranteed renewable so the insurance company may refuse to provide supplement coverage. In case the person is dropped he or she has the right to enroll in another coverage.
In what cases does the person have to pay late enrollment fee?
It depends on the condition whether the policy has "creditable prescription drug coverage". In such conditions the supplement coverage pays almost similar to Medicare's standard prescription coverage. People who enroll in the prescription drug plan without creditable coverage may have to pay a higher premium in comparison to when they were first eligible.
As a person grows older they need prescription drug coverage more often than before. It is the responsibility of the insurer to send you a yearly notice to let you know if your prescription coverage is still creditable. These notices are essential when a person wants to join a Medicare prescription plan later on.