Medicare Supplemental Insurance has allowed large numbers of elderly people to manage their finances in a proper and predictable fashion by reducing their medical expenses as far as possible. Medicare Supplemental Insurance is a private Medicare policy that retired persons can buy in addition to their regular Medicare policy. Medicare Supplemental policy helps people to cover out-of-pocket expenses which are not covered by the Original Medicare.
Based on your Medicare Supplement policy, senior can obtain coverage for co-payments, skilled nursing care, foreign travel insurance, deductibles and Medicare Part B excess charges.
Basics of Medicare Supplemental Insurance:
To understand Medicare Supplemental Insurance, you first need to understand Medicare. Medicare is a health insurance policy that is administered by the government and is offered to the people of the age 65 and above. The Medicare Supplement Policy is divided into two types basically, Medicare Parts A and B. Medicare Part A covers hospital care in the hospital, hospice care, and long-term health care at home.
 Medicare Part B provides Medicare Supplement coverage for visits to the doctor, outpatient hospital care, emergency visits etc. It must be noted that the Original Medicare covers about 80% of the total Medicare-approved amount and the rest 20% is covered by Medicare Supplement Insurance.
Medicare Supplemental Insurance is available to the citizens of United States via many local Medicare companies, each providing different Medicare plans at different rates. Elderly people get to choose from 10 standardized Medicare Supplement policies, named Plan A through N, with some exceptions.
Since these Medicare Supplement Insurance plans are standardized, they offer similar benefits but at varied prices.  This means that Medicare Plan F at one Medicare Supplement Insurance company must offer same benefits to Plan F at some other company. However, the insurance premiums that the people have to pay may vary from company to company.
Medicare Insurance premiums can vary because of many reasons. It may be dependent upon the size of the company, reputation, service ratings, etc. It must be noted that some Medicare Supplement Insurance companies raise your premium as you grow old, while other companies offer a flat rate for everyone irrespective of age.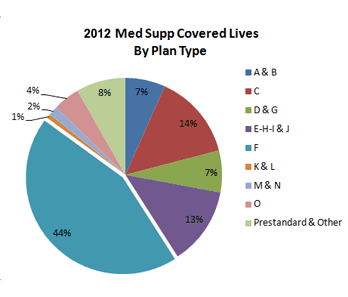 Choosing a Medicare Supplement Plan:
The right Medicare Supplemental Insurance policy for you would based on various factors such as your health, medical history, income, age and lifestyle etc. You need to find a financial planner who could help you out finding the best Medicare Supplement policy that covers all your medical needs.
Medicare Plan F is undoubtedly the most comprehensive policy out of all the others. Medicare Plan F provides insurance coverage for Medicare Parts A and B coinsurance and deductibles, excess charges for Medicare Part B, skilled nursing care etc.
For individuals who are in good health and in good financial position, Medicare Plan A could also be sufficient for them. Medicare Plan A is available at a low monthly premium.
Other options available with the elderly people are Medicare Plan K or Medicare Plan L. Both of these Medicare Supplement Insurance plans have high deductibles. So, it is upon an individual to decide whether he needs such a plan or not. Medicare Plans K and L work in a different way as compared to Medicare Plan F. With these plans, a person obtains partial coverage for certain benefits while he/she has to give annual deductible. The limit for out-of-pocket expenses under Plan K is set to $4,660 and for Plan L, $2310.
Prior to reaching out-of-pocket limit, Plan K would cover hospital co-insurance and half co-insurance for other Medicare services. Prior to reaching out-of-pocket limit, Plan L would cover hospital co-insurance and 75% of other co-insurance expenses.
Selecting the correct Medicare Supplemental Insurance policy is quite important for you. You must not forget that it could take you a while in figuring out which plans is the best. Comparing Medicare Supplement Insurance plans is a good option.