What is a Medicare HMO Plan and How does it Work?
A health maintenance organization is also called as an HMO plan. It is suitable for those people who are looking for complete health insurance. Medicare HMO plans provide coverage for most of the health care expenses. Under Medicare HMO Plans, a person needs to give monthly premium along with co-payments for his visits at the physician and prescription medicines.

Medicare HMO Plans demand that the above mentioned amounts are paid when you receive services. The good part about Medicare HMO plans is that your monthly premiums won't rise in case you receive more Medicare health care.
Buying Medicare HMO Plans:
The first step you need to take in order to purchase a Medicare HMO Plan is to choose your PCP. PCP would be a doctor within your plan's network and in case you need to see any other medical specialist within your network; you would require a referral from your PCP first.

Prior to choosing a Medicare HMO Plan, it is ideal to check out the provider network of all the major Medicare companies. A smaller network is most likely to cut-down your options; for instance, some networks may have very few or no doctors present.

Deductibles in Medicare HMO Plans are almost negligent however, very few deductible-free Medicare Health Insurance plans are being offered these days.

The highest costs crop up when you visit any physician outside your network. Under most circumstances, you would be exclusively responsible for paying the entire cost of the medical care you have received outside your Medicare HMO Plan network.

A Medicare HMO plan subsidizes health care costs up to a great extent by giving fixed monthly fees to all the physicians in their networks. Hence, they generally bill Medicare HMO plans less than their present rate. The out-of-pocket cost for seeing a PCP within the network is a co-payment between $10 and $50. Then again, doctors outside of that network do not have such motivation to absorb their costs.

Medicare HMO Plans are significantly lay emphasis on preventive care. Large numbers of specialists think that such type of focus could end in long term Medicare benefits and cost diminutions. Medical Tests and initial medication are included in an average Medicare HMO plan, permitting a lot of patients to take advantage of Medicare health care sooner.
Patients with HMO Medicare plans are more liable to catch diseases, like cancer, in their earliest phases. When illnesses are not very grievous, medication are more affordable and more effectual. This can lead to better health effects, in addition to lower Medicare health care costs.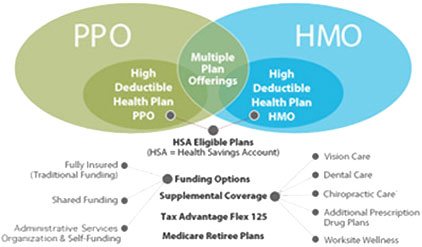 How to Decide Whether Your Organization Requires a Medicare HMO Plan?
Prior to deciding on a Medicare HMO Plan, ensure that your Medicare HMO would fulfil your organization's requirements. You also need to make sure that the Medicare HMO plan is dependable and it caters your special needs.

In case your organization already has Medicare providers and experts, find out if you can use them again or not to buy Medicare HMO plans. Prior to joining any Medicare HMO Plan, also double check if the HMO is offering top-notch Medicare health care in your area.

Advantages of Buying a Medicare HMO Plan:
There are several advantages of buying a Medicare HMO plan. An individual, who has an HMO Medicare plan, can receive services by a PCP who would know particulars about the person's social, fiscal, family and personal situations. The PCP would then organize the person's Medicare health care in such a way that fewer services will likely be utilized.

Another plus point of buying a HMO Medicare Plan is that your PCP would be available to offer you Medicare health care services as and when you need them. Your PCP will also perform some medical tests and treatments prior to sending you to some specialist for advance treatment.
In case you go with a Medicare HMO plan, but need the help of a Medical specialist, you can get in touch with a member of the network who has contracted work with a HMO.
Number Of MA Contracts

Advantage Plan Penetration

United States
$734
United States
428
United States
17.5%
Alabama
$692
Alabama
41
Alabama
15.2%
Alaska
NA
Alaska
39
Alaska
0.5%
Arizona
$651
Arizona
50
Arizona
30.1%
Arkansas
$640
Arkansas
39
Arkansas
8.23%
California
$652
California
52
California
30.7%
Colorado
$649
Colorado
37
Colorado
28.2%
Connecticut
$681
Connecticut
40
Connecticut
9.1%
Delaware
$658
Delaware
37
Delaware
2.23%
District of columbia
$776
District of columbia
41
District of columbia
8.12%
Florida
$840
Florida
74
Florida
23.1%
Georgia
$680
Georgia
49
Georgia
8.1%
Hawaii
$639
Hawaii
41
Hawaii
34.4%
Idaho
$647
Idaho
40
Idaho
18.2%
Illinois
$680
Illinois
56
Illinois
7.22%
Indiana
$641
Indiana
45
Indiana
9.5%
Iowa
$618
Iowa
42
Iowa
11.8%
Kansas
$675
Kansas
44
Kansas
6.2%
Kentucky
$653
Kentucky
45
Kentucky
8.4%
Louisiana
$855
Louisiana
42
Louisiana
16.1%
Maine
NA
Maine
38
Maine
2.23%
Maryland
$815
Maryland
41
Maryland
5.5%
Massachusetts
$737
Massachusetts
42
Massachusetts
14.2%
Michigan
$816
Michigan
44
Michigan
14.1%
Minnesota
$645
Minnesota
40
Minnesota
26.2%
Mississippi
NA
Mississippi
38
Mississippi
6.51%
Missouri
$663
Missouri
45
Missouri
15.2%
Montana
$591
Montana
38
Montana
11.2%
Nebraska
$650
Nebraska
37
Nebraska
8.21%
Nevada
$757
Nevada
41
Nevada
29.1%
New Hampshire
$653
New Hampshire
33
New Hampshire
2.1%
New Jersey
$807
New Jersey
42
New Jersey
8.2%
New Mexico
$651
New Mexico
41
New Mexico
20.1%
New York
$811
New York
64
New York
21.2%
North Carolina
$647
North Carolina
40
North Carolina
13.3%
North Dakota
$591
North Dakota
37
North Dakota
5.51%
Ohio
$674
Ohio
54
Ohio
17.1%
Oklahoma
$666
Oklahoma
42
Oklahoma
11.3%
Oregon
$647
Oregon
53
Oregon
34.3%
Pennsylvania
$778
Pennsylvania
59
Pennsylvania
31.1%
Rhode Island
$655
Rhode Island
37
Rhode Island
30.2%
South Carolina
$646
South Carolina
43
South Carolina
8.22%
South Dakota
$591
South Dakota
36
South Dakota
3.2%
Tennessee
$655
Tennessee
47
Tennessee
16.1%
Texas
$742
Texas
57
Texas
13.0%
Utah
$644
Utah
40
Utah
16.5%
Vermont
NA
Vermont
34
Vermont
1.1%
Virginia
$671
Virginia
43
Virginia
8.7%
Washington
$644
Washington
47
Washington
19.1%
West Virginia
$707
West Virginia
40
West Virginia
6.23%
Wisconsin
$618
Wisconsin
46
Wisconsin
18.2%
Wyoming
NA
Wyoming
35
Wyoming
2.3%
Read Complete Guide to Medicare Insurance
Av 686 90 02022012